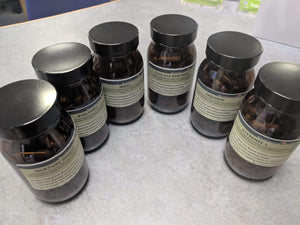 VIRU-PARAGAL PACKAGE  -  cell-food nutrition
A  wild-crafted cell-food nutrition intracellular body
cleanse,
 with minerals for nourishing and revitalizing the body. 
The therapeutic package 
consists of t
he 7
 essential compounds.
BIOLYMPH
CHELATE NURTURE        

NURTURE DIGEST

IRON PLUS IMMUNO

VIRUPARAGAL
ENDOBIO
UTERENSE

1. Biolymph - Promotes stabilization and boosting of the immune system, and detoxing of the lymphatic system.
2. Chelate Nurture  - Supports the cleansing of GI tract & Colon.

3. Nurture Digest  - Supports the cleansing and revitalisation of upper digestive systems, Pancreas, Liver, Kidney. 

4. Iron Plus Immuno - Consists of various Iron-rich herbs and minerals that nourishes and strengthens the body, stabilizing and boost of the immune system.

5. Viruparagal - Addresses the fungal, viral, bacterial and parasitic compromised nature of cell tissues. 
6. EndoBio - Nourishes the body's endocrine glands, promotes optimal body hormonal balance and function.
7. Uterense 2 - Supports hormonal regulation and balancing, and the renourishing and strenghtening of the female reproductive system.
This information has not been evaluated by the Food and Drug Administration.
This information is not intended to diagnose, cure, or prevent any disease.