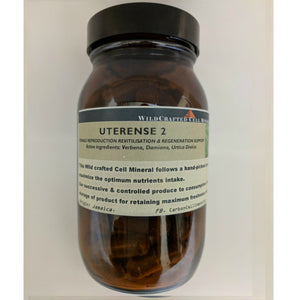 UTERENSE 2                                                            
INFLAMMATION, FIBROID & FERTILITY -  Cleanses and nourishes the uterus and female reproductives, from inflammatory conditions such as cysts, tumors, and fibroids. Promotes reproductive cell regeneration, fertility and sexual appetite.
Damiana cell mineral, included in our Uterense compound supports balancing of the reproductive hormones by stabilizing estrogen and promoting progesterone production .

Progesterone called the happy hormone soothes the nerves, alleviates headaches, migraines and post-natal depression experienced during hormonal imbalance condition.

Progesterone a body producing hormone required at pregnancy carrying stage also supports general function of the body biology, and is made during the ovulating stage in the uterus. Deficiency in progesterone hormone can be common due to bad nutrition, lifestyle or well-being.
This information has not been evaluated by the Food and Drug Administration.
This information is not intended to diagnose, cure, or prevent any disease.