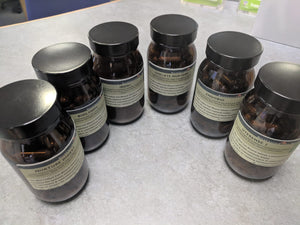 FEMALE REPRODUCTIVE HEALTH (Therapy Pack). 
Cell-Food Nutrition.
A wildcrafted cell food nutrition intra-cellular body cleanse, with minerals for nourishing and revitalizing the body. Aids in the cleansing and renourishing of the female reproductive cell tissues.                                                                                 
The therapeutic package consists of the 8 essential compounds:
BIOLYMPH
CHELATE NURTURE       
ENDOBIO
EKENERVI
IRON PLUS IMMUNO
VIRUPARAGAL
UTERENSE 1
UTERENSE 2
1. Biolymph - Promotes cell tissue decalcification, stabilisation and boosting of the immune system, and detoxing of the lymphatic system.
2. Chelate Nurture - Supports the cleansing of GI tract & Colon.

3. Endobio - Nourishes the body's endocrine glands, promotes optimal body hormonal balance and function.
4. Ekenervi - Supports body homeostasis in the cleanse, stimulating and balancing of the adrenals and nervous system.
5. Iron Plus Immuno - Consists of immune stimulating and various iron rich wild plants, to aid strengthen the body and improve the immune system. Iron Plus Immuno also contains our wildcrafted purple seamoss and bladderwrack to support the body's overall mineral daily requirement.
6. Viruparagul - Addresses the fungal, viral, bacterial and parasitic compromised nature of cell tissues. 
7. Uterense 1 -  supports in addressing the digestive system estrogen metabolism and circulation.. 
8. Uterense 2 - Cleanses and renourishes the reproductive cell tissues, alleviating uterus inflammatory related conditions such as cysts and fibroids, promoting cell regeneration, fertility, and sexual appetite.
This information has not been evaluated by the Food and Drug Administration.
This information is not intended to diagnose, cure, or prevent any disease