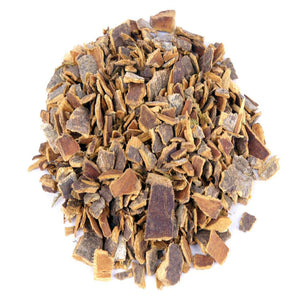 Description
Product: Cascara Sagrada
Latin Name: Rhamnus purshiana syn. Frangula purshiana
Plant Family: Rhamnaceae
Other Names: Cascara Buckthorn, Cascara, Chittim Wahoo, Sacred bark, Holy Bark, Persian Bark, Puchiana Bark, Christ's Thorn, Bear Wood, California Buckthorn, Purchiana Bark & Chittam Bark.
Description: A small, deciduous tree growing 4-5 metres in height, native to North America. Its stems are covered with reddish-brown bark. The leaves are dark green, elliptic to oblong-ovate with prominent veins and toothed margins. Leaves are rounded at the base with somewhat hairy underneath. Short-stemmed clusters of small, greenish-white flowers grow from the upper leaf axils.
Brief History: The Spanish Conquistadors learnt the uses of this plant in the 16th century from the Native Indians of the West Coast of America, where Cascara grows. The Natives called it 'Sacred Bark', which the Spaniards simply translated into their own tongue and so it became Cascara Sagrada. It wasn't until sometime in the 1870's that it became to be used by herbalists in western medicine.
Do not take this product if you are pregnant or nursing. Consult your healthcare provider before use if you are taking any prescription medications.
For educational purposes only. This information has not been evaluated by the Food and Drug Administration.
This information is not intended to diagnose, treat, cure, or prevent any disease.